A Tale of Many Pizzas
Once upon a time a man named Joseph and his wife Joanne traveled over oceans and seas to a town called Springfield. There, they found a royal palace full of pizza and became king and queen. They spent their days and nights having pizza galas until the late hours of every night- they just couldn't turn their friends away! At a young age their son Jonathan became Prince of this Palace and later married his Princess Viviana. They too had children, Sir Caleb, Sir Eli, and Lady Juliana. As a family Malek's Pizza Palace grew. Years later, there are still pizza galas every night! And now it's not just pizza- there's so much more!
History
More than 35 years ago, Joseph and Joanne Malek came to the United States of America to live the American dream. In 1981 they bought Plaza Pizza; and by 1994, it was remodeled and reinvented to become Malek's Pizza Palace. One of the first restaurants in Springfield, Virginia to offer dine-in, carry-out and delivery. Joseph kept the restaurant open until 10pm, but the demand was so high that he started to stay open until 11pm, then 12am, and eventually 4am. Joseph never had the heart to turn a customer away. Often times, Joseph's children Elizabeth and Jonathan would sell pizza slices, coffee and hot cocoa to customers stuck in traffic during snow storms.
Jonathan has been a part of Malek's since the age of nine. Flipping pizzas high in the air and perfecting the array of international dishes is his focus. In 2004, Jonathan wed Viviana and together they are dedicated to continuing a long tradition of quality and excellence. They have been blessed with three beautiful children; Caleb, Eli and Juliana.
Malek's Pizza Palace offers everything from appetizers, soups, salads, subs, Greek, Italian, and Mediterranean specialties to their famous New York Style Pizza. Come on in today and help them celebrate over 35 wonderful years of serving the community!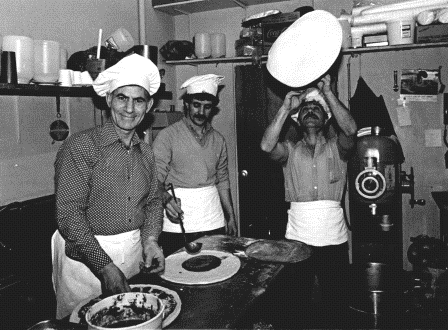 We appreciate your patronage! Please consider leaving a review for us on Google.